(Haz click aquí para leer en Español)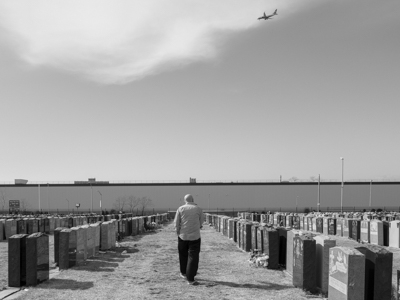 Last February I had the honor of spending six days following a man as he and his family prepared for his surrender in prison after pleading guilty to a criminal offense. It was a very intense experience that touched me far deeper than I had dreamt.
The last time I traveled by myself, I left a sealed envelope for my wife to find in case anything should happen to me. Aside from the usual bank information and passwords, the most difficult aspect of this act was adding something meaningful to this note. And I had it easy, as I knew that, more than likely, I'd be back in a week.
I can only ponder on what it means for a patient to "put one's affairs in order" after being diagnosed with a deadly illness, but every day, in every corner of the world, many people are forced to do just that as they learn, with scary certainty, that their days are, indeed, counted.
However, these aren't the only people who go through this ritual: having to surrender at a prison poses the same challenges. A sentence, after all, is just a sentence, whether pronounced by a Judge or our own bodies. And at the beginning, most sentences feel alike: long and, in many cases, like a capital one. It's one of the most drastic and quick changes imaginable in a person's life.
In an instant, the vital importance of freedom becomes painfully evident for everyone involved: parents, spouses, children, close friends, and making amends, tying loose ends, become priorities. There's also the certainty that some pleasures are being enjoyed for the last time, all accompanied by the nagging thought of "What might I be forgetting?"
Denial, anger, bargaining, depression, and acceptance are emotions we're supposed to deal with after the fact. In this case, they have to be dealt with before, during, and after. And as if that weren't difficult enough, the "before" is impossibly mixed with a duty to celebrate the present.
For a long time, or forever, there will be no more good-night kisses, no more waking up in the middle of the night to check on the kids or prepare a guilty snack, no more crazy school assignments to help with, no more vacations.
The intensity of life during this surreal time between a Judge's order and someone's appearance at the gates is uncanny, and the only lesson to be learned, really, is how important it is, for one's sanity, not to know everything about the future, whether that future lies 50 years or 5 days down the road.