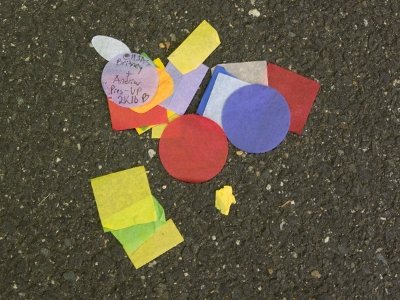 One of the most valuable lessons I've gotten from Natan Dvir, at one of his lectures was that often, projects will find you, rather than the other way around.
Two projects that I'm currently working on found me by chance, when I "saw" them, and realized that one is very close to my heart and convictions, and the other, while no less closer to my heart, has been touching my life almost daily for the past five years.
The idea for "New Year Wishes" didn't come to me when, while trying to figure out how get to actually watch the ball drop on Times Square, on New Year's eve, I found out that some of the confetti that would be thrown at the throngs of spectators, later that night, would contain people's wishes – for some time, the Times Square Alliance had been inviting passers-by to write their wishes on pieces of confetti which would be mixed with the thousands of pounds that would be dropped as the new year arrived. That wasn't but yet another bit of trivia to know about the city. It wasn't in my mind even as we headed into the melee (we didn't make it into the multitude on Broadway or 7th Avenue; for this, as we learned the hard way, you need to be there no later than 8:30 or 9 pm, which means I'll never ever make it there again), neither as we settled for walking around Central Park, which proved to be far more enjoyable than standing for three hours in corrals of people packed subway-style.
After the euphoric moment passed, we started our stroll back south and at that point, photography was even farther from my thoughts. But then, we ran into a pile of confetti, pushed into a corner by New York's very predictable winds and it occurred to me to look there for a piece of the wishful confetti. Ever curious, Camila, my daughter, asked what I was doing, and when I told her, she immediately set off to work (bless you, Electra – and Freud), and soon enough, she found one very heartfelt wish: "I wish to be a dad." As I reveled in the "find" and showed it to my wife, Camila found another one, and another, and soon my wife joined us, kneeling on the floor in front of a multitude of intrigued but uncurious onlookers, and eventually it all clicked: a little impromptu series to start the year.
We all wish. Sometimes for things we don't have, sometimes for things we don't have enough of, sometimes for things we once had, sometimes for things we never want to be without. But we all wish for something. I don't know how significant this small sample is, but it's quite diverse and, no doubt, it's as random as it can get. There's love and there's family, but it struck me that only one of the wishes we found had anything to with material things. It's hopeful in that sense, but at the same time it's sad, because the stories some of them tell, between lines, are of lives where what's really important seems to be absent.
Until next year. Maybe.